VEGAN GLUTEN FREE IRISH SODA BREAD
It's that time of year again. When we all celebrate St. Patrick's Day. There are parades (although this year social distancing parades) corned beef and cabbage, Irish cocktails and getting pinched if you don't wear green.But here's a new RISE Oat Milk twist to the holiday tradition. Vegan, gluten-free Irish soda bread. It's a little work but well worth the effort and your family and friends will think you're part leprechaun for creating culinary magic.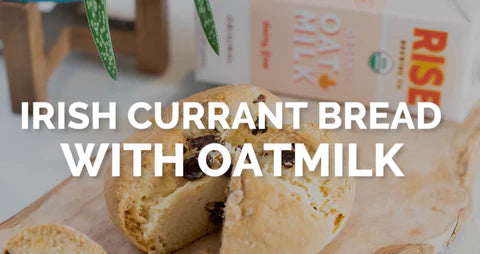 INGREDIENTS
1 Cup of RISE Oat Milk + 1 tablespoons of Apple Cider Vinegar
1/2 Cup dried currants
2 Cups of your favorite gluten free baking flour, plus another 1/2 cup or so for the light kneading and another 1 Teaspoon for the currants
2 Tablespoons organic cane sugar
1/2 Teaspoon baking soda
1/2 Teaspoon fine-grain salt
1/4 Cup 1/2 stick vegan butter
DIRECTIONS
Preheat oven to 375 degrees Fahrenheit. Line a medium baking sheet with a silicone mat or parchment paper. Make sure you have a surface - clean countertop or pastry board - to use when it's time.
Make buttermilk. Add 2 cups of RISE Oat milk to a 2-cup to a small bowl. Stir in 1 tablespoon vinegar. Set aside for at least 5 minutes.
In another small bowl, toss the currants with the 1 teaspoon flour. Set aside.
Combine dry ingredients. Flour, sugar, baking soda, and salt to a large bowl. 
Original Oat Milk